See you at Onkel Dannys Plads in Kødbyen!
In May 2019 we will return to Kødbyen (the Meatpacking District) with the fourth Talk Town, where we once again will create an unique arena to discuss all things gender, equality and feminism.
Count down to Talk Town 2019
The programme will be announced in the spring 2019!
WHEN & WHERE
Date: May 9th – 11th 2019
Address: Onkel Dannys Plads, Kødbyen, 1711 København V.
ENTRANCE FEE
Talk Town is free and open to all. Note that there may be a symbolic entrance fee on some concerts.
FOOD & DRINK
To be updated…
HOW TO GET THERE
BUS
10 og 14 stops at Gasværkvej, which is 450 m. from the festival site.
1A stops at Hovedbanegården (Tietgensgade), which is 550 m. from the festival site.
6A og 26 stops at Trommesalen (Vesterbrogade), which is 550 m. from the festival site.
TOG
Copenhagen Central Station is 500 m. from the festival site (6-minute walk).
Dybbølsbro St. is 700 m. from the festival site (10-minute walk).
Information on accessibility will be posted here soon. 
If you have any requests in relation to accessibility, do not hesitate to contact us.
SET THE SCENE FOR GENDER, EQUALITY AND FEMINISM
DEADLINE: MARCH 12th 2019 at 11:59 PM
Talk Town invites associations, media, political parties, activists, professional organizations, companies and citizens to take part in the festivals debates and workshops. Anyone who has an interest in the theme is more than welcome. We hope for a wide range of input to make the debate as multifaceted as possible.
Anyone with an interest in the festival's themes are more than welcome to submit an event.
PARTICIPANT'S FEES
Organizers of an event pay a fee of 1500 DKK for hosting their event. The fee covers: location at the festival (2 hours), technical conduction, stage-management, technical equipment, PR.
INFO MEETING
The dates for future info meetings will be posted here.
As a volunteer on the Talk Town festival you will get the exclusive opportunity to be a part of a team consisting of organizers and other volunteers, that have dedicated their time and energy to get one of Denmark's most versatile festivals for feminism and equality up and running. We can't do it without you – so come join us!
Send us an email at info@talktown.dk and tell us a bit about yourself and what kind of work you're interested in doing at Talk Town 2019 – we look forward to hearing from you!
Info meetings for volunteers will be held in spring 2019. Dates will be advised here and on our Facebook page.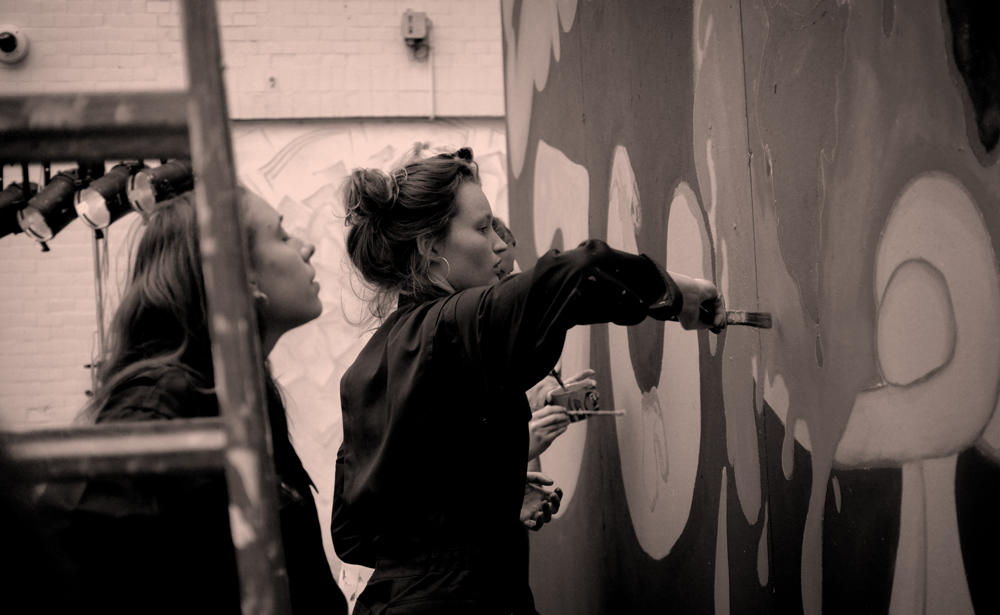 OPPORTUNITIES FOR VOLUNTEERING
Can you operate a PA-system, projectors and other tech equipment?
As a tech volunteer at Talk Town you will be in charge of a wide variety of tech systems, making sure everything is in working accordingly and being ready to step in if (and when!) something stops working.
Experience with sound tech is necessary, since you will be responsible for the equipment on the various stages.
Are you serviceminded and interested in activism? Would you like to ensure that the festival guests, speakers and organisers have a fun and memorable experience? Then the Front Desk Crew is for you! The front desk crew cover a variety of tasks such as working behind the bar in the feminist bodega or ensuring our guests have the information they require by manning the information and merchandise stand.
Talk Town needs help distributing flyers and programmes to cafés, libraries, venues etc. in the weeks prior to the festival. So if you enjoy cycling around the streets of Århus, and meeting new people, this might just be the job for you!
As a runner at Talk Town your job is to be in the right place at the right time, helping out with all sorts of tasks such as setting up chairs, making more coffee, cleaning up between events, helping out at the feminist marketplace or working with the stage managers on bigger tasks. The runners are important cogs in the festival wheel, and absolutely essential to ensure the festival runs according to plan.
So if you thrive in a high-paced job with many different tasks, are good at staying organized and friendly at the same time, you may just be the runner, we're looking for.
Each day will be different – so a can-do attitude is a must!
A driver's license isn't mandatory, but definitely a plus.
Follow us on social media